Product Information
Growing Girl Scout Cookies seeds
Whether you are planning to grow Girl Scout Cookies seeds indoors or outdoors, growing the plant from seed can be rewarding. This strain grows to a height of five to seven feet, and the connoisseur-grade cannabis flowers it produces are sure to please. However, there are a few things you need to know before you begin growing. For starters, the pH level of the soil needs to be between 6.4 and 6.5. Once the pH level is right, you can place the seeds on a paper towel and cover them with a paper towel. Leave the paper towels on for twenty to forty hours, or until the seeds sprout a tiny taproot. Once the roots appear, you can plant your seedlings into the soil.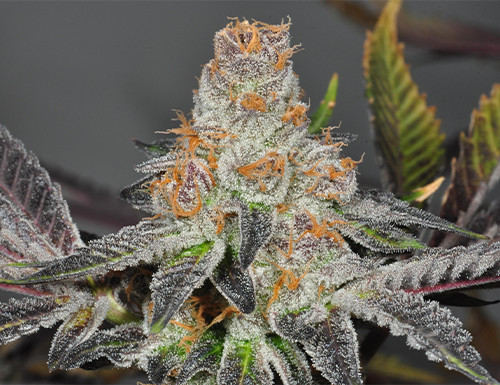 Girl Scout Cookies Feminized Seeds are a cross between the OG and Durban Poison strains. MSNL breeders brought this strain to Northern California. Unlike other GSC strains, it is a very stable and productive strain. It will flower in about nine to ten weeks and can produce as much as 400 grams per square meter. Once fully grown, Girl Scout Cookies will produce a strong aroma.
The Girl Scout Cookies strain is a hybrid heavyweight with a pronounced indica influence. Because of its high THC content, this strain produces a potent indica high that lasts throughout the entire day. It is even endorsed by famous rappers. It has won multiple awards around the world. The northern California powerhouse has become an internationally known hybrid strain. If you have the patience and determination to grow it correctly, it can be an excellent addition to your home garden.
Flowering time for Girl Scout Cookies cannabis strain
If you are planning to grow your own marijuana, you must know about the flowering time of Girl Scout Cookies seeds. It takes about eight to 10 weeks to flower outdoors. This strain is resistant to a lot of diseases, although it is prone to powdery mildew. However, the neem oil that you use on the female flowers can help prevent mildew from growing. If you use neem oil, your female cannabis plant will not get affected by any kind of mildew.
Growing the girl scout cookies cannabis strain is easy. It only needs nine to ten weeks to flower, and it will produce about ten grams of buds per plant. However, if you don't grow it indoors, the flowering time of this strain might not be suitable for your growing conditions. Because this strain produces high levels of THC, it's better to cultivate it in a mediterranean climate.
The first step in growing Girl Scout Cookies is to measure the size of the buds. The largest size of the buds is around six inches long. The best time to harvest the buds is when sixty percent of the pistils are dark, or seventy percent are orange or brown. You can also check for trichomes on the buds. The smallest trichomes have the most THC and cannabinoids.
Yield for Girl Scout Cookies marijuana strain
The yield for the Girl Scout Cookies marijuana strain is around 15.5 to 17.5 ounces per square meter when grown indoors. In the outdoors, this strain can reach heights of about 20 feet and produce more than seven pounds of buds per plant. Its medium-sized plants are resistant to mildew and mold. A moderate amount of sunlight is required to grow this cannabis strain. It is recommended for outdoor cultivation in mild climates, but it is not difficult to grow indoors.
The Yield for Girl Scout Cookies cannabis strain is a good medium-sized plant, although it may not be the most attractive. Its medium-sized flowers will flower in 55 to 65 days, and the plant grows quickly. However, the plant is unpredictable and you should monitor its growth during the vegetative stage. The flowering period is quick, and the strain's height can vary significantly. You should be aware of the THC content, which can cause adverse reactions in some people.
Girls Scout Cookies plants take nine to ten weeks to flower. You should begin harvesting the plant around mid-October, so keep an eye on the weather. Girl Scout Cookies marijuana plants can yield up to 10 ounces per plant. Grow indoors in a dry Mediterranean climate. Girl Scout Cookies plants should be protected from extreme temperatures, as this strain may cause extreme dryness. It can also cause paranoia and anxiety. Lastly, Girl Scout Cookies plants should be kept away from children and pets, as they could affect their behavior.
Growing Girl Scout Cookies seeds Indoor
When growing Girl Scout Cookies seeds indoors, you can benefit from the plant's bushy, weed-like growth. To maximize your harvest, you can prune the bottom leaves to encourage resinous buds. This strain also grows well in a Sea of Green growing method, which distributes lamps evenly throughout the plant's space. A hygrometer can help you determine the humidity inside the jars. After harvest, the buds will be sticky and covered in resin.
This strain is a hybrid heavy hitter that leans more toward the indica side. The high THC content is responsible for its fame. It has won multiple awards and endorsements from hip-hop artists. Despite the challenges that growing GSC indoors presents, it is quickly becoming a favorite among home growers. For beginners, however, there are a few tips and tricks to keep in mind. Make sure you read the instructions carefully.
The sweet, buttery buds of this strain make this cannabis cultivar an excellent choice. The plant can grow well in both soil and hydroponics. While hydroponics is best for indoor growing, it is possible to grow Girl Scout Cookies seeds indoors too. For best results, you should follow a high-quality feeding regimen and supplement with extra calcium and magnesium. Cut back on the nitrogen level when the plant is flowering and add plenty of potassium and phosphorus. Additionally, you can add potassium silicate to the growing medium. This can supercharge the growth of your plants, giving them greater resistance and strength.
Growing Girl Scout Cookies seeds Outdoor
You can grow Girl Scout Cookies in either hydroponics or soil. They will start flowering at nine to ten weeks after planting. These plants need a sunny climate and good warmth to produce the best buds. You should aim for temperatures around 20°C, with low humidity. During flowering, you can expect a yield of 14 to 17 ounces per square foot. Growing Girl Scout Cookies indoors is similar to growing them outdoors, but you should keep in mind that they prefer a mediterranean climate.
The Girl Scout Cookies marijuana strain has a visually appealing appearance and savory taste with a hint of baking spice. Its lineage is legendary and its seeds are incredibly hardy. You can grow it both indoors and outdoors, with good results. Although the yields are modest, the buds will be full of flavor and high in THC. It takes nine to 10 weeks to flower, so be patient and plan your growing space accordingly.
While growing Girl Scout Cookies outdoors, you will need to keep the temperatures in the right range. You need to keep the humidity level in the mid-twenties during the vegetative stage. This will force the buds to produce more resin, which is the sparkling outer layer of trichomes that contains THC. If you want the buds to be sweet, you can add blackstrap molasses to the water. It's best to add 0.5 teaspoons per gallon. If you grow Girl Scout Cookies hydroponically, you may not need molasses.
Optimal Climate For Girl Scout Cookies seeds
Growing cannabis indoors is possible with the use of Girl Scout Cookies seeds, which are known for their savory taste and hint of baking spice. Because of the strain's legendary hybrid lineage, these seeds are ideal for indoor and outdoor cultivation. This strain's genetics have made it highly resistant to climate change, so you can plant these seeds in any climate without worrying about their performance. The ideal climate for Girl Scout Cookies marijuana seeds is a warm Mediterranean climate, but if you don't live in this region, you can try growing it in your greenhouse instead.
In a greenhouse, Girl Scout Cookies seeds are best grown in a climate that is between 68 and 80 degrees Fahrenheit. They also thrive in soil. Because they can tolerate temperatures and humidity changes, they need a stable growing environment. Ideally, the climate should be around 68 degrees Fahrenheit with about 40 percent humidity. The Girl Scout Cookies strain will reach full maturity at a height of 70 inches, but smaller varieties may only reach 39 inches. The buds of Girl Scout Cookies are coated with copious amounts of resin, and the outdoor plant will yield 21 oz of edibles.
Girl Scout Cookies seeds do not require light to sprout. However, they do need a warm environment. Germination will occur in about 78 degrees Fahrenheit. They are bushy and sensitive, and you should keep them well-trimmed to avoid mold. Ensure that you have ample space between the seeds and the soil surface. If you're growing Girl Scout Cookies indoors, you'll want to consider planting the seeds about two inches below the surface.
Girl Scout Cookies Genetics
This award-winning hybrid combines the sativa and indica traits to produce an irresistible bud. Originally cultivated in California, this variety has since spread throughout the world. Its high THC levels and sweet flavor have made it an instant hit for marijuana smokers. As with all great hybrids, the genetics behind Girl Scout Cookies can vary, but it generally falls into the indica/sativa category.
The Girl Scout Cookies strain originates from the Cookie Family, a group of San Francisco-area breeders that created other cannabis strains including Sunset Sherbert and Cherry Pie. The strain's origins are somewhat obscure, but it has a long history of popularity. Its roots can be traced back to the 1990s, when OG Kush, also known as "Kush" in southern California, was crossed with a mysterious strain called "F1". The combined genetics of these two strains became the strains we know today.
Cookie Fam has been incredibly protective of their proprietary genetics, which makes this strain an excellent choice for connoisseurs. Its distinctive aroma is attributed to its complex terpene profile, which is made up of Linalool, Caryophyllene, and Limonene. These components contribute to the intense bouquet and citrus flavor of Girl Scout Cookies. A long, slow cure will also enhance the potency and aroma of the bud.
The Girl Scout Cookies plant is capable of yielding up to ten ounces per plant. Outdoors, the plant takes nine to ten weeks to flower, depending on the variety. The plants grow up to seventy inches tall. Their smaller varieties grow to 39 inches at full maturity. The buds are covered with resin and contain lots of nuggets. Outdoor plants can produce as much as 21 ounces. If you're planning on growing Girl Scout Cookies in your greenhouse, it's best to research the genetics of each plant first.
Girl Scout Cookies seeds origin
The Girl Scout Cookies cannabis strain has a very visually appealing appearance with a subtle hint of baking spice. The strain's legendary hybrid lineage makes it an excellent choice for indoor or outdoor growing. It's remarkably hardy, resistant to climatic changes, and ideal for warm Mediterranean climates. This article will give you the details on how to grow this marijuana plant, and provide tips for growing it. But before you get started, let's take a closer look at how it grows.
First of all, the seeds were not originally obtained from the Girl Scouts. The original Girl Scout Cookies strains were created by a collective in San Francisco called Cookie Fam. The group of cannabis growers grew a variety of high-end cannabis strains, including Girl Scout Cookies. The main breeders at the time were Flux and Jigga. Later, rapper Berner and Sherbinski joined the collective. Eventually, this group grew to be one of the most famous in the world.
Cookie Fam is protective of its proprietary genetics, so the Girl Scout Cookies strain is a cross of the F1 phenotype of OG Kush and Durban Poison. Its slender, tall, and compact plant is not known for heavy yields, but it is incredibly potent. Girl Scout Cookies produces a distinctly pungent aroma, which can even cut through carbon filters. The aroma can also be amplified by a long slow cure.
Terpene profile
The terpene profile of Girl Scout Cookies is very diverse. During its testing, CB Labs found Caryophyllene, Limonene, and Caryophyllene oxide. In addition, SC Labs found beta-Myrcene. These three terpenes are known for their relaxing and calming effects. These qualities make Girl Scout Cookies an excellent choice for people looking for a relaxing and soothing high.
The aroma of Girl Scout Cookies is quite distinct. With the terpene profile of spearmint, this strain has a sweet and earthy aroma. The aroma changes into a sweet chocolatey or citrusy scent when the plant combusts. The terpene profile is also quite unique, so it's important to experiment with different strains to determine what you personally like the most.
The chemical profile of Girl Scout Cookies marijuana is a combination of the most potent terpenes from different strains. These terpenes are responsible for the fruity, nutty, and sweet flavors of this strain. The highest levels of these terpenes are found in the buds of the Girl Scout Cookies strain, while low levels of terpenes are associated with a musky, earthy aroma.
Flavors
If you're interested in a delicious treat, consider the different flavors of Girl Scout Cookies. While each cookie has its own unique recipe, the flavor varies between them. For example, Caramel deLites are different from Samoas, which have a light coconut flavor. Caramel deLites are milk chocolate and have a lighter vanilla flavor than Samoas. However, whichever flavor you choose, they're sure to satisfy your craving.
If you love chocolate, the Adventureful cookie might be the best choice for you. It features a brownie-inspired base with a caramel-flavored creme and a sprinkle of sea salt. The adventurefuls are an adventure in a box, and they're available until the end of summer. You can also order new flavors of Girl Scout Cookies, such as the gluten-free Toffee-tastic and Adventurefuls.
Peanut butter lovers will love the Do-si-do, also known as a Peanut Butter Sandwich. The cookie's crispy oatmeal shell contains a creamy peanut butter filling. If you're not a peanut butter fan, don't worry. Peanut butter lovers will enjoy the peanut butter-filled shortbread, or Trefoils. These are great for a snack or dessert after a meal.
Aroma
The aroma of Girl Scout Cookies cannabis seeds is reminiscent of a sugar cookie. The buds are fragrant, smelling of caramel and mint with hints of earthiness. Despite its sweet flavor, the Girl Scout Cookies cannabis strain also has a slight aftertaste of sawdust. While the feminized buds of this cannabis strain are sweet, the smell translates to the flavor, which is fruity, skunky, and minty.
The Girl Scout Cookies strain is used for a number of ailments, but has proven its most potent effects when used for stress management. It is often regarded as a perfect wind-down smoke for the evening, as its high is quick to set in and settles into a sedative high. It has been known to combat anxiety and depression and is an excellent sleep aid. Its sweet aroma will soothe your nerves and make you feel happy and relaxed.
The Girl Scout Cookies strain is a favorite among many cannabis enthusiasts, as it produces small, dense nuggets with dark purple calyxes and brown chocolate chip hairs. The terpene profile of this strain is different from other cannabis strains, giving it a unique flavor that keeps smokers coming back for more. This strain's aroma is also unique. Some smokers describe it as being similar to the smell of Thin Mint Girl Scout Cookies. This is because the two strains are genetically similar, but they have different aromas and effects.
Taste
The most popular type of cannabis seed, Taste of Girl Scout Cookies can be grown from its seeds. When grown from seed, the cannabis plant will produce an excellent, high-quality harvest. It is renowned for being a stress-reliever and a good choice for marijuana beginners. Cannabis seeds from this strain are known for their medicinal benefits and are suitable for new cannabis cultivators. It is a cross between OG Kush and an unknown cultivar.
The high from these marijuana seeds is intense and energizing, creating a euphoric rush. It is also known to cause laughter and a spark of creativity. As a result, this strain of cannabis is perfect for nighttime relaxation or socializing with friends. It is suitable for both recreational and medicinal use. It is a popular strain in medical marijuana dispensaries in the United States. Its high-THC content can overwhelm newcomers, but it is well worth the try.
The Taste of Girl Scout Cookies cannabis seeds have a pleasant aroma of earthy notes and a rush of chocolate. They are infused with notes of pepper and light mint. The full-bodied taste of these weed seeds is characterized by a mellow, energizing euphoria with hints of citrus and spice. The seeds can help with depression and stress and can even improve creativity.
Girl Scout Cookies parents
The best growing conditions for Girl Scout Cookies are warm, low-humidity environments. Girl Scout Cookies plants will reward you with yields of 15 to 17 oz. per plant, depending on the variety. Indoors, you can use the "Sea of Green" technique to bunch a number of plants together. This technique will cause them to finish and flip earlier than traditional methods, allowing for more harvests in less time. In order to grow these plants, you will need to supply them with micro-nutrients and nitrogen during the flowering stage.
There are two types of seeds: female and male. Feminized seeds are more reliable than males and can be grown in a wide range of climates. Males are usually the dominant type, and female plants are the smallest and most delicate. If you're growing for yield, choose the Feminized variety. However, you should keep in mind that these cannabis seeds are not recommended for growers in subtropical climates.
The genetics of this strain are extremely popular. The Girl Scout Cookies strain is an indica dominant hybrid. It is often regarded as an offspring of OG Kush and Durban Poison. Other names for this cannabis variety include Cherry Pie and GSC. It originated in California and spread quickly throughout the Western US. It has become a favorite among cannabis connoisseurs. Its pop culture promotion has helped it become a worldwide sensation. It is also widely available online, with a forum cut available to those interested in breeding this hybrid.
OG Kush
If you're interested in growing a strain of cannabis, you've probably heard of OG Kush Seeds. The name of this strain indicates that it produces dense, thick resinous buds in a lime green color. The average yield is around 550 grams per square meter indoors and a whopping 1100 grams per plant when grown outdoors. The strain requires a tropical climate for optimal growth and should be grown in organic soil amended with compost tea.
Feminized OG Kush seeds eliminate male plants from the plant. These seeds are easier to find and are good for the novice grower. Regular OG Kush seeds, on the other hand, contain both male and female plants, giving growers more genetic variation and a greater chance of creating phenotypes of their own. There is an OG Kush Seed for everyone, and we recommend checking out our selection of feminized seeds if you're not sure what type you need.
This cannabis strain is suitable for both indoor and outdoor gardens, and is known for its spicy smell. It can grow to two to three feet tall and can grow well in a grow tent. For outdoor cultivation, the first plants should be sown after the danger of frost has passed. Once germinated, these plants should be ready to harvest in mid-October. This is an ideal time to start growing cannabis. A small grow tent is also perfect for these plants.
Durban Poison
If you're interested in growing your own marijuana, you've probably heard about Durban poison Seeds. But what exactly are they and how can you buy them? The seeds themselves aren't difficult to come by. You can purchase them online, in stores, or even over the phone. To purchase Durban poison Seeds wholesale, contact Weed Seeds USA. Here's a little bit about this notorious strain.
Durban Poison cannabis seeds produce tall, leafy plants with generous green buds. Its leaves are densely covered in resin and grow to be up to five feet tall. To grow Durban Poison cannabis indoors, keep the plant healthy and keep the branches trimmed. Durban Poison cannabis seeds are a landrace variety, which means that they aren't hybridized. You can expect to see a high yield from this strain, and the resulting plants will be jaw-dropping.
The Durban Poison plant does not require much water, except before flowering. It is happiest in a temperature range between 72 and 80 degrees. The highest temperature is 95 degrees, but only if the CO2 levels are very high. Keep the humidity low, as high humidity hinders root growth. Keep the relative humidity between 65% and 30% during the vegetative stage and 20% during the flowering phase. This way, you'll have an XL harvest and avoid pest problems.
Durban Poison is a pure landrace Sativa strain. It has a short flowering cycle and can be sown directly. It grows best in conditions of high humidity, low light, and proper training. It also has a screen of green that maximizes the bud-site and balances the plant for larger harvests. A feminized Durban Poison plant's germination is quick and easy!
Girl Scout Cookies strain Effects
The Girl Scout Cookies marijuana strain is one of the best sellers in the West. Its name was inspired by the infamous cookie flavour of the same name. This award-winning strain boasts a delicious aroma and mellow effects that are sure to leave you smiling. Read on for tips to grow this strain and learn about its effects. Its euphoric full body high and cerebral mood will leave you smiling and stress melting away.
The Girls Scout Cookies marijuana strain has a very relaxing effect. Its sedative effects will help ease your mind and allow you to sleep soundly at night. Despite the sedative properties, it has a high THC content, ranging from 22% to 28%. Due to this high THC content, it's recommended that consumers consume this strain moderately. The high THC content of the Girl Scout Cookies strain can overwhelm some consumers, especially newcomers to the cannabis community.
The Girl Scout Cookies cannabis strain requires full exposure to sunlight to produce the desired results. The Girl Scout Cookies cannabis strain is tall, with leaves that are reminiscent of a tall, branched tree. The Girl Scout Cookies strain has a medium yield of 17 – 20 ounces per plant. It can be grown indoors or outdoors in mild climates. As long as you've got a good blender, you should be able to grow this strain easily.
Girl Scout Cookies recreation Effects
The history of Girl Scout Cookies is somewhat complicated, but the strain has gained a lot of popularity in the Bay Area since its release in 2010. The high inducing effects of this marijuana seed have led to several phenotypes and different types of the phenotype. The genetics of Girl Scout Cookies are a result of the strain's rapid spread and popularity. The seeds are not yet stable, so they can vary in colour and texture.
The flavors of Girl Scout Cookies are a treat for the taste buds. The flavor is sweet, with hints of pine and berries. It is highly suited to growing indoors, and is known for its sedative and relaxing effects. Those seeking a relaxed, mellow feeling should consider consuming Girl Scout Cookies. This strain has a pleasant, uplifting effect that will make you feel energized, calm, and creative.
The chemical composition of Girl Scout Cookies is an average of what may be present in the strain. It typically has high levels of THC, with modest levels of CBG. It contains terpenes such as limonene and humulene. It is often associated with a minty, floral taste. The high also helps people focus and think. The high, however, is extremely potent and may cause users to feel dizzy.
Girl Scout Cookies medical Effects
The sativa and indica components in Girl Scout Cookies combine to create a potent strain that is soothing to the nerves and induces sleep. Its sedating properties make it an ideal choice for those suffering from chronic pain and nausea, and it also has impressive pain-killing effects. Its sweet flavor and calming effect make it the perfect cannabis strain for both a relaxing evening alone and a fun night out with friends.
The high-CBD and low-THC content of Girl Scout Cookies strains produce a calming cerebral high with an uplifting feeling. It also relieves stress, pain, and depression and induces sleep. It is easy to grow and has moderate yields. Growers can also opt for its autoflower version, a cross between Girl Scout Cookies and Ruderalis. Growers who have limited space can grow the autoflower version of Girl Scout Cookies Seeds. It has all the characteristics of the original strain, including its excellent potency and sweet aroma.
The side effects of Girl Scout Cookies strain are rare, but there are some precautions you need to take. Drink plenty of water or a non-alcoholic drink. If the seeds are smoked, the user will likely experience dry mouth and eyes. People who suffer from dry eyes and mouth may also scratch to relieve discomfort. Some people have reported feeling anxiety or paranoid while smoking. This is usually temporary and is not dangerous.
Girl Scout Cookies THC levels
When smoked, Girl Scout Cookies THC levels are high enough to make you feel upbeat and relaxed. While it can treat many conditions, it is most effective as a stress-management tool. Its sedative effects make it an excellent choice for the evening wind-down. In addition to combating depression, this weed relieves anxiety and insomnia. The weed's calming effects can help people deal with problems that are causing them stress.
The Girl Scout Cookies strain is named after the famous skunk cookie. Its sweet and minty aroma stands out from other skunks. Its appearance is also quite distinct and beautiful, with twists of colors. As a result, it is a popular strain among cannabis consumers. But is it worth trying? How does it compare to other strains? Luckily, it contains high levels of THC.
The THC levels in Girl Scout Cookies marijuana are higher than average, bringing about an indica-dominant high. Its sweet mint flavor and relaxing effects are a big draw for most consumers. However, there are some negative side effects of this marijuana strain. Some people may experience a dry mouth or dizziness. Others may experience paranoia and anxiety. Overall, this strain is considered to be safe and effective for many people.
If you are interested in buying a bag of Girl Scout Cookies, it is important to know the THC content. High levels of THC are associated with a high feeling of euphoria. However, not everyone is looking for that kind of high. However, this strain is great for people who want a bigger effect. Moreover, it is known for its excellent taste. The Girl Scout Cookies strain has become popular in recent years.
Girl Scout Cookies CBD levels
The Girl Scout Cookies have many medicinal benefits. The CBD levels in these cookies are high enough to stimulate appetite and reduce pain. What's more, they can be grown easily in the backyard. If you're looking for a high-quality CBD strain, look no further than Girl Scout Cookies. Its countless benefits can help you enjoy your life to the fullest. So, what are you waiting for? Buy some today! Here's how to find it:
First, let's talk about how to grow the cannabis strain. Girl Scout Cookies is a medium-sized variety that needs a moderate amount of space and fertilizer. Outdoors, this plant can flower in 65-70 days, and produces a moderate yield of two to three ounces. Its flavor is characterized by sweet earthy, dank tones. It is a medium-high yielding strain, and can grow to a height of about a foot tall.
The high-CBD content in Girl Scout Cookies is a great way to experience the effects of cannabis without the psychoactive properties. The high-CBD levels make this strain a great choice for people who need an extra boost when it comes to reducing pain and inflammation. Moreover, Girl Scout Cookies are very easy to grow and don't pose a huge challenge. As long as you research properly and have the right knowledge and tools, you can enjoy the benefits of CBD in this strain.
Experiencing The Girl Scout Cookies strain
If you've ever wished you could have the sweet taste of a real Girl Scout Cookie, you're in luck. This potent strain packs a punch in the body high department and is perfect for nighttime and evening use. The sweet taste and aroma of Girl Scout Cookies will make you want to reach for another cookie. However, this strain is not for everyone, and the THC content is very high, so you'll want to take it slow.
The Girl Scout Cookies marijuana strain is an excellent choice for experienced users. The bud contains a sweet, cookie-like flavor, with hints of mint and pine. Its earthy undertones allow it to be perfect for any type of cannabis consumer. The girl scout cookies strain has been a top contender in a number of marijuana strains since its release. A gram of this potent strain will take you to the sweet spot!
Growing cannabis can be tricky, and you need to be knowledgeable about growing marijuana to succeed. Girl Scout Cookies plants grow best in warm climates and need a lot of space. They require low-stress conditions and are tolerant of mold and disease. The Girl Scout Cookies cannabis strain is a wonderful option if you're looking for a high-quality, potent strain. However, remember to follow all recommended guidelines to prevent a disaster.
Final thoughts on Girl Scout Cookies seeds
Girl Scout Cookies seeds are an excellent addition to any garden. The flowers have a delicious aroma that makes passersby turn their heads to see where they are coming from. These seeds grow into plants that are compact and have a strong herbal undertone. They usually have hints of lemon, vanilla, or nutmeg. They are a hybrid of two different strains of marijuana. Aside from their sweet taste, Girl Scout Cookies seeds also have the ability to produce a large number of buds.
The Girl Scout Cookies strain is an indica dominant hybrid, combining the OG line and Durban Poison. It comes from MSNL breeders in Northern California, making it an excellent strain for indoor and outdoor cultivation. This strain also has a high yield compared to other GSC seeds. If you have a warm Mediterranean climate, Girl Scout Cookies will grow easily. Whether you grow your cannabis indoors or outdoors, these seeds are sure to produce the results you're after.
If you're new to the marijuana growing scene, you might consider trying out autoflower seeds. They're beginner-friendly and allow for learning while growing. The best part about autoflower seeds is that they have a predetermined flowering and harvest time. That means you won't need to tweak light or nutrient levels or adjust your light cycle. You can plant your Girl Scout Cookies seeds in a few weeks and harvest high-quality marijuana in less than a month.
Growing Girl Scout Cookies autoflower seeds is not an easy task, but the results are well worth it. These seeds grow fast, and their genetics are incredible. Because they have OG Kush and Durban Poison as parents, they are the perfect plant for indoor growers. They have an intense, uplifting flavor that will boost your mood and induce relaxation. And while the flavor is potent and can make you drool over your brownies, the autoflower effect is more subtle.
Similar to Girl Scout Cookies feminized seeds
While you might be familiar with this strain from its name, this feminized seed has many traits in common with its sativa parent. The Girl Scout Cookies feminized seed produces a compact plant with a single main cola and thin side branches. This strain is medium-sized with a short internodal distance. Growing these feminized seeds indoors is also possible. The buds produced by this strain have an indica dominant structure, and the effect is both fast and euphoric.
This strain's flowering phase lasts for about six to seven weeks, which is fairly standard. Once the plants reach flowering, they need about ten to twelve weeks before they're ready to be harvested. Although they can tolerate high humidity and temperature changes, they should be protected from rain and mist. If grown outdoors, the Girl Scout Cookies plant can yield upwards of 17.6 ounces per square foot.
The Girl Scout Cookies feminized marijuana seed produces crystal-coated, 450g/m2 flowers in 55 days. The crystals are topped with pistils. The resulting flowers are a real treat for the senses. The Girl Scout Cookies feminized cannabis seed requires a 600-watt HID grow light or equivalent, as well as a low indoor humidity. The plant will produce a high yield of buds and will finish flowering by mid-October.
Whether you're looking for ultra relaxation, creative ideas, or inspiration, the Girl Scout Cookies feminized cannabis seeds will be an excellent choice. These marijuana seeds have delicious flavors and aromas, and are perfect for both experienced and novice marijuana consumers. There's no better way to start a cannabis journey than with this strain. Soak your hands in the delicious aromas of Girl Scout Cookies feminized marijuana seeds and enjoy an invigorating high that you won't soon forget.
Best time to use Girl Scout Cookies strain
One of the best marijuana strains to try is Girl Scout Cookies. This high-THC marijuana strain is known for its euphoric effects, as well as its uplifting effect. However, the moniker does not reflect the actual strength of this strain. Some people find this marijuana strain too strong for their tastes, but for those who want to experience a stronger effect, it is the perfect choice. Here are some tips to use this strain safely.
When to Use Girl Scout Cookies: The euphoric high that this marijuana strain produces is perfect for the end of the day. This strain's effects are both relaxing and creative. It is best used in small doses after a long day. A strong dose will cause you to lose coordination, so the best time to use this weed is if you're trying to relax and decompress. You should avoid using this marijuana strain during peak hours, though.
Grow Girl Scout Cookies seeds indoors or outdoors. This marijuana strain grows in a sea of green setup and has great yield potential. As a seedling, you should have some knowledge of how to grow marijuana plants in a Sea of Green set-up. Girls Scout Cookies is resistant to mildew, mold, and pests. You can even grow them outdoors in mild climates. Its yield is 17 to 20 ounces per plant.
The Girl Scout Cookies strain is best harvested in October. While outdoor growth is ideal, this strain doesn't like harsh weather. Indoors, growers can grow this strain with a variety of methods. Hydroponic methods are ideal for growers because they save a lot of time. Hydroponics also eliminate the need for standard fertilizer. The result is a healthy and potent crop. While the Girl Scout Cookies strain is a great choice for novices, it is best used during the growing season.
In addition to providing an instant high, Girl Scout Cookies marijuana is a good choice for treating different kinds of pain. It helps to relieve muscle aches and neuropathic pain. It also relieves nausea from radiation and chemotherapy. It can also help to combat insomnia. Another great reason to use Girl Scout Cookies is to alleviate hunger. The euphoric properties of this marijuana strain can lead to munchies, but this is not a bad thing.
Where to buy Girl Scout Cookies seeds
One of the most popular marijuana strains is Girl Scout Cookies, and you can easily grow your own with the right seeds. Using seeds is the best way to ensure a high-quality harvest. Its name is inspired by the popular Girl Scout Cookies cereal. Regardless of the type of seeds you choose, be sure to purchase a good quality variety from a reputable seed source. You'll be pleased with the results!
The Girl Scout Cookies feminized marijuana seeds are bred from superstar parentage. The female offspring of OG Kush and the pure sativa Durban Poison, this strain is a powerful hybrid that can boost your THC levels to as high as 25%. The buds produced by this strain are amazingly dense and crystal-coated, and the potency is enough to help with insomnia, anxiety, and stress relief.
The origin of Girl Scout Cookies can be traced back to a cannabis collective in the Bay Area. Rapper Berner, signed to Wiz Khalifa's Taylor Gang record label, was one of the founders. Cookie Fam's aim was to produce connoisseur-grade genetics. They crossed an OG Kush with an F1 Durban Poison. Although these seeds were never released as seeds, some were distributed as clones. Be careful while searching for the original Girl Scout Cookies seeds.